Free 2017 Premium Draft Guide Sneak Peek
Updated - 9/4/2017
Welcome to a special SNEAK PEEK into the 2017 Fantasy Football Mastermind Pre-Season Draft Guide and Draft Kit. Each year, patrons ask us to see a few samples of our primary premium summer product, so we have decided to oblige the masses with a quick look into a few key sections, providing fantasy football draft tips. Below you will find PARTIAL sections of our draft kit guide, such as a few special fantasy football articles, a portion of our sleepers feature, and select Tiers of fantasy football player analysis rankings. We'll be adding to and updating this SNEAK PEEK draft kit every so often at the site, but not nearly as often as we update the official fantasy football draft strategy guide. If you like what you see and want to see more, don't hesitate to ORDER NOW. Your competition may already have gotten the jump on you if you don't!

One more note... Why should you consider a premium purchase at FFMastermind.com? Good question. Click HERE for more details about our site and our owner. Yes, FFMastermind.com has won several Experts league championships over the past few years (2016 FanExFootball.com Experts Champion; 2016 SOFA - Huddle IDP Experts League Champion, 2015 SOFA - Huddle Classic 12 Experts League Championship, 2014 SOFA - Huddle Classic 12 Experts League Championship, 2014 HAFAX Dynasty Auction IDP Experts League - Grand Champion (16-Team IDP Auction League), 2012 FanEx Experts Championship, 2011 FanEx Experts Championship, 2010 HAFAX Experts Dynasty Auction IDP Championship, 2009 FanEx Overall Experts Championship, 2008 SOFA IDP Experts Championship & Back-to-Back-to-Back-to-Back SI.com Experts Championships in 2004, 2005, 2006 & 2007), but more importantly, our owner eats, sleeps, and lives for fantasy football. In the 2014 FFPC High Stakes Main Event, he placed 15th Overall out of 1,344 teams good for $7,500 in winnings & in 2015 he won $10,000 in the FFPC High Stakes Main Event with Two Teams. In 2016, he won another $4,000 in the FFPC Main Event by Placing One Team in the Top 150 Overall with One League Championship! He even makes his living through this site. How many other services can say that?


* Mastermind Championship Projection (MCP) Board - 9/4/2017 (Free Preview) UPDATED!
* The 10 Demandments of Fantasy Football by John Holler 6/28/2017
* Player Profiles - 2017 RB Rankings Analysis & Drafting Tips by Michael Nazarek & John Holler 6/28/2017
* Tailoring Your Draft Strategy to Take Advantage of Your League's Rules by Chris Rito 6/28/2017
* Auction Draft Strategies & Tactics in 2017 by Perry Burr 6/28/2017
* Hangin' in the Red Zone 2017 by John Holler - 8/4/2017 NEW!
* The Official 2017 FFMastermind.com Draft Plan by Michael Nazarek 8/22/2017 UPDATED!
* 2017 Fantasy Football QB Sleeper Preview by Michael Nazarek 8/29/2017 UPDATED!
* 2017 Fantasy Football TE Creeper Preview by Michael Nazarek 8/30/2017 UPDATED!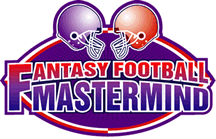 The Definitive Fantasy Information Service
Mastermind Moment
2018 Madness NFL Rookie Draft Reference Guide
Monday, April 16th, 2018
Premium Pro Bowl and Super Bowl Package Subscribers take note. The time has come. The 2018 Madness NFL Rookie Draft Reference Guide has been released for your viewing pleasure. This
Read the Full Mastermind Moment