2023 AUCTION MASTER...
Has Been Officially Decommissioned and Replaced with the...
2023 EXECUTIVE DRAFT MASTER (EDM)
SPECIAL $4 (20%) DISCOUNT CODE FOR NEW SUBSCRIBERS TO TRY OUR EDM!
CLICK THE LINK BELOW & SAVE 20% USING DISCOUNT CODE: AMASTER4
CLICK HERE FOR DETAILS ON THIS SPECIAL PRODUCT!
The Executive Draft Master Handles All the Capabilites of the Auction Master & More!

The Executive Draft Master comes with official FFMastermind.com
PROJECTIONS and WEEKLY UPDATES through the Preseason.
FREE WITH A DRAFTER'S EDGE OR SUPER BOWL PACKAGE ORDER!

Back to top of page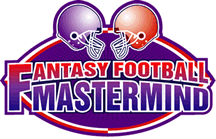 The Definitive Fantasy Information Service