2018 AUCTION MASTER...
Has Been Officially Decommissioned and Replaced with the...
2018 EXECUTIVE DRAFT MASTER
CLICK HERE FOR DETAILS ON THIS SPECIAL PRODUCT!
The Executive Draft Master Handles All the Capabilites of the Auction Master & More!

The Executive Draft Master comes with official FFMastermind.com
PROJECTIONS and WEEKLY UPDATES through the Preseason.
FREE WITH A DRAFTER'S EDGE OR SUPER BOWL PACKAGE ORDER!

Back to top of page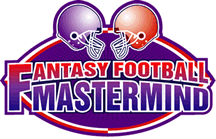 The Definitive Fantasy Information Service
Mastermind Moment
Free 2019 Pre-Season Draft Guide Preview
Monday, July 1st, 2019
Our patrons always ask for us to release a preview of our annual summer fantasy football blockbuster Pre-Season Draft Guide. Well, YOU asked for it, YOU got it!
Read the Full Mastermind Moment