2023 Premium Services - Fantasy Football Draft Guide, Cheatsheets, Newsletters, Software & Rankings
All Services Include Additional 5% Credit Card/PayPal Fee
MOST POPULAR PRODUCTS/PACKAGES
Premium Fantasy Football Draft Player Picks, Rankings, & other Fantasy Football information services to gain the home-advantage! Check our Premium section above for exclusive services. Our Super Bowl package is a top-seller, giving you everything you need to get a solid strategy & team. The Super Bowl Package includes EVERYTHING, but here's a small list of some items that are included:
* An Executive Draft Master kit, designed to help anyone with the top fantasy football player picks.
* Player Analysis and Scouting Package: Premium content to make sure you know the top fantasy football players coming into the upcoming year by knowing their strengths & weaknesses.
* Daily Quick Bits: Everything up-to-date in the Fantasy Football & NFL world, in one place.
* Rookie Player Rankings & Analysis: Everything you need on Rookies & their stats.
Next up is the Pro Bowl Fantasy Football Package. This package doesn't include the Enhanced Executive Draft Master kit, to pick the top fantasy football players - like the Super Bowl Package, but it'll offers our other exclusive special off-season services. The Pro Bowl Package includes these services and many more:
* Mastermind's Rookie Madness Rookie Draft Guide
* Player Analysis & Scouting Package
* Player Rankings & Analysis May through September
* NFL Team Depth Charts
* Updated Fantasy Football Pre-Season Weekly Rankings.
Fantasy Football Mastermind for your top fantasy football draft picks, rankings & Information services. Our Premium Services will get you to the Goal line. Mastermind's In-Season Fantasy Football Newsletter will help you stay updated Weeks 1-16. Player Rankings for Week 1, Week 2, or Week 10, depending on your strategy and usage of our fantasy football tips & tricks! The longer you wait, the less top fantasy football player information you'll have access to. Only Fantasy Football Super Bowl & Pro Bowl package subscribers will receive these fantasy football tips & tricks information articles and off-season rankings before late June.
Back to top of page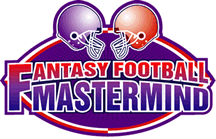 The Definitive Fantasy Information Service