Fantasy Football Mastermind Information Services has begun its 23rd year on the web. We continue to have tremendous growth with regard to visitorship of our site. In recent years, we drew such reputable companies as CBS Sportsline, Yahoo, FOX Sports, The Sporting News, Sports Illustrated, and the FFPC High Stakes Contest to promote their services and products via our site. This year, we've maintained our sponsorship rates at the rock bottom cost of $1.0 CPM (Cost Per 1,000 Impressions) per month in 2018.
Fantasy Football Player Demographics (Courtesy of the FSTA):
Fantasy sports is a $7.22 billion industry. There are 59.3 million fantasy sports players in the United States and Canada, a 3.3% jump from a year ago. Among the 18-34 demographic, 24% are new players.
The Average Player is...
71% Male
89.9% White
51.5% Unmarried
34 Years Old
78.1% Hold College Degrees
Visits a Fantasy Site for 39 minutes on Average EVERY DAY.
Many other fantasy sites offer sponsorship at more than triple our rates. Why pay more anywhere else? In addition, multiple month sponsorships are offered at a further reduced cost. We also tailor sponsorships to suit YOUR NEEDS to include not only banner/button placement on the site, but also select "text pushes" can be included on our "NFL Quick Bits" feature as well as on our Information Board. Customized packages with additional promotions in our free fantasy newsletter which is delivered to more than 100,000 valid and captive e-mail addresses are also available.
If you are interested in sponsoring our site, please contact us or call us at (702) 568-7118 for more details. Thank you.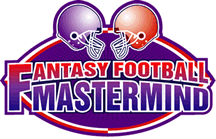 The Definitive Fantasy Information Service