2020 NFL Draft Central
Welcome to Mastermind's 2020 NFL Draft Central! You'll find our 2020 NFL Draft coverage right here on these pages. Everything from Eligible Underclassmen to analysis of the NFL Draft will be posted for your viewing pleasure. The items contained in this feature are a mixture of free information and our premium Rookie Madness product. Enjoy.
P = Premium Rookie Madness Feature/Article or Premium PASS Feature
P2020 Mock Rookie Draft - Version I -- Coming Soon!
P2020 NFL Team (Rookie) Needs -- Coming Soon!
* QB Nathan Rourke Flash Scouting Report -- 1/23/2020 NEW!
* QB Joe Burrow Flash Scouting Report -- 1/21/2020 NEW!
* Early Entrants Declared for the 2020 NFL Draft -- 1/21/2019 UPDATED!
* 2020 NFL Draft Order - First Round -- 1/21/2020 UPDATED!
* 2020 Key NFL Dates -- 1/12/2020 NEW!
* PASS: Player Analysis & Scouting Service
The draft central was created for everyone, making it easier to locate all of our Fantasy Football Draft Kits & Fantasy Football Draft Strategy guides. These items can be combined to create a customized Fantasy Football Cheat sheet with updated projections from FFMastermind. Look no further than the 2020 Draft Central. FFMastermind is proud to announce we have continued our partnership with FantasyDraftTools.com to offer the ultimate in Fantasy Football Draft Kit Tools. With custom fantasy football draft boards and customizable Fantasy Football Cheat sheets. We've combined our list of customizable positional fantasy football cheat sheets, fantasy football rankings, and draft guides.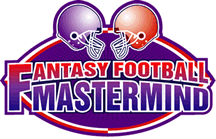 The Definitive Fantasy Information Service
Mastermind Moment
FFMastermind.com Wins Another FFPC League Title!
Thursday, January 2nd, 2020
Team FFMastermind.com led by Michael Nazarek & Dr. Gil Brovar took down another FFPC Main Event League> Title in 2019, making it the 3rd title in the last six years!
Read the Full Mastermind Moment