Interested in "What is New" at our site this year? Well, you have come to the right place. We will keep an updated list of the new features at Mastermind Services right here. Be sure to check often as you do not want to miss any of the NEW features we have to offer in 2018!
P = Premium Service Feature/Article
THE LATEST PREMIUM FEATURES/PRE-SEASON ARTICLES
FANTASY ARTICLES/REPORTS OF THE MONTH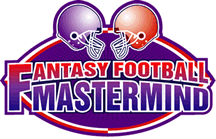 The Definitive Fantasy Information Service
Mastermind Moment
FFMastermind.com Wins Another FFPC League Title!
Thursday, January 2nd, 2020
Team FFMastermind.com led by Michael Nazarek & Dr. Gil Brovar took down another FFPC Main Event League> Title in 2019, making it the 3rd title in the last six years!
Read the Full Mastermind Moment