Interested in "What's New" at our site this year? Well, you've come to the right place. We'll keep an updated list of the new features at Mastermind Services right here. Be sure to check often as you don't want to miss any of the NEW features we have to offer in 2017!
P = Premium Service Feature/Article
THE LATEST PREMIUM FEATURES/OFF-SEASON ARTICLES
FANTASY ARTICLES/REPORTS OF THE MONTH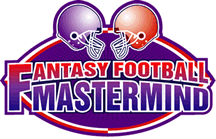 The Definitive Fantasy Information Service
Mastermind Moment
Free 2017 Pre-Season Draft Guide Preview
Wednesday, July 5th, 2017
Our patrons always ask for us to release a preview of our annual summer fantasy football blockbuster Pre-Season Draft Guide. Well, YOU asked for it, YOU got it!
Read the Full Mastermind Moment