Interested in "What is New" at our site this year? Well, you have come to the right place. We will keep an updated list of the new features at Mastermind Services right here. Be sure to check often as you do not want to miss any of the NEW features we have to offer in 2018!
P = Premium Service Feature/Article
THE LATEST PREMIUM FEATURES/PRE-SEASON ARTICLES
FANTASY ARTICLES/REPORTS OF THE MONTH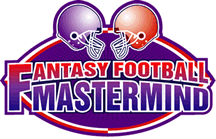 The Definitive Fantasy Information Service
Mastermind Moment
UPDATED: NFL Game Matchup Analysis & Mastermind Moments!
Sunday, September 13th, 2020
OK, the big day has come and gone; your draft is over. You assembled an impressive roster thanks to a lot of time, energy and research dedicated to that task.
Read the Full Mastermind Moment