Back to the Full Premium Product Page

2017 Fantasy Football Drafter's Edge Draft Kit & Strategy Guide
The Best Pre-Season Deal!

ORDER NOW CLICK HERE

(Only $24.95!)
Approx. 25% SAVINGS!

Drafter's Edge Fantasy Football Draft Kit with the addition of cool new software for fantasy owners to utilize during their fantasy football draft here at FFMastermind.com. Patrons and subscribers looking for a comprehensive PRESEASON PACKAGE will want to purchase our DRAFTER'S EDGE to get the Total Mastermind Edge when drafting against their fantasy opponents. Simply put, this fantasy football draft kit package provides you with TWO COMPREHENSIVE PREMIUM FANTASY FOOTBALL PRODUCTS at one low price! If you total up the retails cost of our Pre-Season Fantasy Football Draft Kit & Guide, and the Enhanced Executive Draft Master, you come up with nearly $25! We sliced that cost approx. 25% down to just $18.95! In addition, you can choose to set up a Fantasy Football player watch list for all of 2017 and get our Daily NFL Quick Bits e-mailed directly to you! What's not to like about this great preseason deal?
* 2017 Player Watch List
* 2017 Daily NFL Quick Bits (from Player Watch List) E-Mailed to You
* 2017 Average Draft Position (ADP) Charts
* 2017 Master's Trading Edge - Draft Pick Trade Calculator
* 2017 Special Fantasy Football Oriented Strength of Schedule Chart
* 2017 NFL Team Depth Charts (June through the start of the Season)
* 2017 Updated Pre-Season Weekly Rankings (All Updates from July-Sept)
* 2017 Pre-Season Draft Guide (All Updates)
* 2017"Masters List" Customizable Pre-Season Cheatsheets
* 2017 Executive Draft Master MC Excel App.
* 2017 Special E-Mail Injury Alerts
2017 DRAFTER'S EDGE PACKAGE ONLY $24.95!
Approx. 25% SAVINGS!



Back to top of page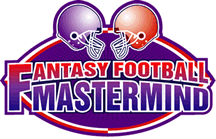 The Definitive Fantasy Information Service