No Suspension for Tyreek Hill; Chiefs Welcome Him Back to Team (Preview)
Michael Nazarek - 7/19/2019
-- SPECIAL PREMIUM ALERT --
-- No Suspension for Tyreek Hill; Chiefs Welcome Him Back to Team --
NFL.com reports the NFL is not planning to suspend Kansas City Chiefs WR Tyreek Hill following its thorough investigation into allegations of child abuse. The NFL did not find that Hill violated the Personal Conduct Policy. He may attend Kansas City's training camp and participate in all club activities. The Chiefs make their statement, saying they support the league's conditions for Hill. "We are glad to welcome Tyreek back to the team."
-- Mike's View --
Wow. I'm stunned he didn't get at least a four-game suspension, but so be it. The Chiefs will now welcome him with open arms for next week's training camp debut. As a result, we will be updating our rankings one week...
This is a Premium FF Mastermind Article.
You must be logged in to view it.
Back to top of page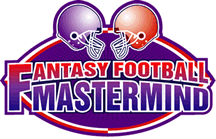 The Definitive Fantasy Information Service
Mastermind Moment
Week #12: The Inside Slant <--- Check It Out FREE!
Wednesday, November 20th, 2019
Wondering why FFMastermind.com has been online for 24 YEARS? Some of the proof is in the premium INSIDE SLANT feature part of the In-Season Weekly Newsletter. Check out
Read the Full Mastermind Moment