TESTIMONIALS
A Great Product Consistently (2015)

To Anyone Interested in Winning,
I just renewed for the 16th time since 2000 for the 2016 season. I wanted to say thanks for providing a great product consistently year after year!

Regards,
David Stewart - Long-time Premium Package Subscriber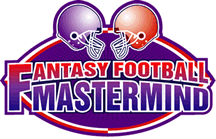 The Definitive Fantasy Information Service
Mastermind Moment
Free 2019 Pre-Season Draft Guide Preview
Monday, July 1st, 2019
Our patrons always ask for us to release a preview of our annual summer fantasy football blockbuster Pre-Season Draft Guide. Well, YOU asked for it, YOU got it!
Read the Full Mastermind Moment