TESTIMONIALS
A Great Product Consistently (2015)

To Anyone Interested in Winning,
I just renewed for the 16th time since 2000 for the 2016 season. I wanted to say thanks for providing a great product consistently year after year!

Regards,
David Stewart - Long-time Premium Package Subscriber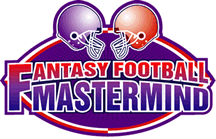 The Definitive Fantasy Information Service
Mastermind Moment
UPDATED: NFL Game Matchup Analysis & Mastermind Moments!
Sunday, September 13th, 2020
OK, the big day has come and gone; your draft is over. You assembled an impressive roster thanks to a lot of time, energy and research dedicated to that task.
Read the Full Mastermind Moment