2019 PSDG: Mastermind Sleepers (Preview)
Michael Nazarek - 8/28/2019
Everyone knows about Patrick Mahomes, Saquon Barkley, and DeAndre Hopkins The top 50 players taken in most fantasy drafts will likely be the same group of players. What separates the men from the boys is knowing who will produce when they are not expected to produce. To this end, I will supply you with sleeper lists of players at each of the key fantasy positions. Consider each and weigh them against your league competition. I will list sleepers in three distinct categories… obvious, darkhorses, and long-shots. I have also offered my "deep sleeper" at each position. Note: The official projected statistics for these players were not posted, as they may change with each guide update.
The following DARKHORSE SLEEPER was posted on these pages four summer's ago. It just goes to show you that sometimes these players pan out in a HUGE way…
...
This is a Premium FF Mastermind Article.
You must be logged in to view it.
Back to top of page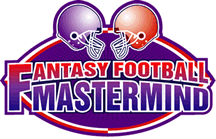 The Definitive Fantasy Information Service
Mastermind Moment
Week #12: The Inside Slant <--- Check It Out FREE!
Wednesday, November 20th, 2019
Wondering why FFMastermind.com has been online for 24 YEARS? Some of the proof is in the premium INSIDE SLANT feature part of the In-Season Weekly Newsletter. Check out
Read the Full Mastermind Moment