2019 Mock Rookie Draft - Version III (Preview)
John Holler - 4/4/2019
Free agency and trades have helped change the landscape of the NFL as teams have filled needs and had needs created by the losses of key players.
As we count down the days until the draft, we have updated our mock draft to reflect these changes. While we still firmly believe defense should dominate the top half of the draft, we currently have four of the top 13 picks going to quarterbacks because that is how life in the NFL works on draft weekend.
1. Arizona – Kyler Murray, QB, Oklahoma. This still doesn't sit well considering what the Cardinals gave up to draft Josh Rosen just last year, But, new coach Kliff Kingsbury can tailor his offense around Murray's skill set and, while I don't believe he should be the No. 1 overall pick, it's the NFL world we live in these days and recent success...
This is a Premium FF Mastermind Article.
You must be logged in to view it.
Back to top of page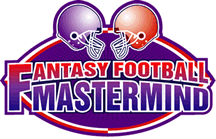 The Definitive Fantasy Information Service
Mastermind Moment
UPDATED: NFL Game Matchup Analysis & Mastermind Moment: The Real Work Begins!
Sunday, September 8th, 2019
OK, the big day has come and gone; your draft is over. You assembled an impressive roster thanks to a lot of time, energy and research dedicated to that task.
Read the Full Mastermind Moment