2018 MCP (Mastermind Championship Projections) Board (Preview)
9/5/2018 - Version XIII - Bell No-Shows!
Looking for an online projections board where you can customize, save, and print your cheatsheets without using a MS Excel App spreadsheet? If the answer is YES, then this board is for you! It includes the following:
1) Fully Customizable - Create your scoring system, save it, and it's added to the drop down list of pre-generated systems (no need to recreate your system each time the board is updated!)
2) More than 495 Player Projections (by late June)!
3) Fully Sortable - Many columns of projections sortable at the click of a button
4) The Mastermind's Comments for every player listed - Mike Nazarek's current thoughts on all entries
5) Two printing options - Print tables with or without Mike's comments
6) More detailed projections...
This is a Premium FF Mastermind Article.
You must be logged in to view it.
Back to top of page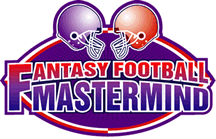 The Definitive Fantasy Information Service