2018 Mock Rookie Draft - Version I (Preview)
John Holler - 2/15/2018
With the Combine looming in two weeks and the opening of free agency coming two weeks after that, the landscape of draft needs is going to change in a hurry. But, for now, we're looking to match talent and need and these are our first quick-twitch takes on who matches up best with the teams selecting throughout the varying stages of the first round.
NOTE: Picks 9 and 10 are subject to a coin clip at the Combine between the 49ers and Raiders to determine their first-round draft spot.
1. Cleveland - Sam Darnold, QB, USC. A case can (and likely will) be made for Josh Rosen or Josh Allen (my personal favorite for long- term success), but Darnold has all the tools from a big-time college program, so until shown different, he's our guy in this spot. Cleveland has passed on too...
This is a Premium FF Mastermind Article.
You must be logged in to view it.
Back to top of page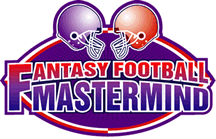 The Definitive Fantasy Information Service
Mastermind Moment
2019 Madness NFL Rookie Draft Reference Guide
Monday, April 15th, 2019
Premium Pro Bowl and Super Bowl Package Subscribers take note. The time has come. The 2019 Madness NFL Rookie Draft Reference Guide has been released for your viewing pleasure. This
Read the Full Mastermind Moment