2017 Mock Rookie Draft - Version II (Preview)
John Holler - 3/21/2017
OVERVIEW: The landscape of the mock draft has taken a big turn thanks to the Combine and the opening of free agency. Some teams with glaring needs have filled them by paying heavily for them, while other vacancies have been created thanks to unanticipated free agent losses. Some draft stocks have risen and fallen from the Combine – nobody more than the drop of Washington cornerback Sidney Jones, who was seen as a top 15 pick before tearing an Achilles at his Pro Day. With five weeks remaining until the draft, here's how we see the first round shaking out
1. Cleveland – Myles Garrett, DE, Texas A&M. The automatic assumption would be that the Browns are going to take a quarterback here – everyone seems to at No. 1 – but, with two picks in the first round and five picks in the first 65...
This is a Premium FF Mastermind Article.
You must be logged in to view it.
Back to top of page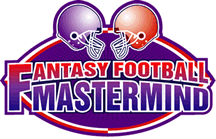 The Definitive Fantasy Information Service
Mastermind Moment
Eagles Sign LeGarrette Blount
Wednesday, May 17th, 2017
Michael Nazarek - 5/17/2017: The big hammer finally dropped for free-agent RB LeGarrette Blount when he decided to sign a one-year contract worth up to $2.8 million with the Philadelphia
Read the Full Mastermind Moment