Get Free Fantasy Football Newsletters
SIGN UP TO THE LEFT
Information on our Free Fantasy Football Newsletters
Our company mails out FREE informational fantasy football newsletters via e-mail each periodically detailing our current site's additions, upgrades, and future enhancements along with valuable fantasy football information.
In addition, subscribers of our Mailing List, on occasion, receive FREE ACCESS to portions of our PREMIUM SERVICES. FFMastermind.com does NOT redistribute our Mailing Lists through sharing or selling in any way.
Our patrons and subscribers will NOT be added to any Spam lists via our company. All that is required is your e-mail address. We remind people who do not enter their email-address will not receive this mailer, since it is only sent via e-mail.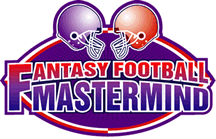 The Definitive Fantasy Information Service