Week #11: Acquiring & Trading Targets (Preview)
Michael Nazarek - 11/14/2023
In this feature, I'll do my best to offer 1-4 players (QB, RB, WR, & perhaps a TE) to target to acquire via trade as well as one player to trade away…
-- Look to Acquire --
QB Kyler Murray, ARZ - He showed enough in his first game back that he will be a solid fantasy starter, so do what you can to get him if you need help at QB!
QB Lamar Jackson, BAL - Any time a STUD QB has an off game, look to BUY LOW.
RB Travis Etienne, JAX - You know the drill here, BUY LOW, as he's coming off his worst game since week #2!
RB Derrick Henry, TEN - Look to BUY LOW, especially since his schedule is very favorable for the rest of the season.
RB Joe Mixon, CIN -...
This is a Premium FF Mastermind Article.
You must be logged in to view it.
Back to top of page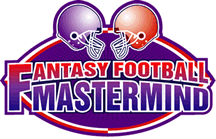 The Definitive Fantasy Information Service