Week #2: NFL Game Match-Up Analysis via Mastermind Moments (Preview)
Michael Nazarek - 9/15/2023
Publisher's Note: As mentioned in our Lead Story feature in week #1, senior staff writer John Cooney has been forced to step aside from his work for this feature in 2023 due to health issues. What does that mean? There will be no targeting information or table statistics in this feature moving forward. We urge you to check out our Red Zone Target feature for the vast majority of what Cooney did on these pages. Should Cooney's situation change for the better, he may return to his duties, but there is no guarantee of that happening. Thank you for your understanding regarding this issue.
2023 NFL Week #2 Game Match-Up Analysis via Mastermind Moments:
1) MIN @ PHI
Mastermind Moment:
The Eagles are easy to read for fantasy. You start...
This is a Premium FF Mastermind Article.
You must be logged in to view it.
Back to top of page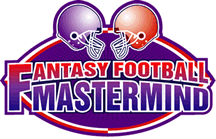 The Definitive Fantasy Information Service