2023 Enhanced Executive Draft Master (EDM) MS Excel App. (Preview)
9/5/2023 - Version 14.0 - 12 Changes & Kelce Injured
FFMastermind.com is proud to announce we have continued our partnership with FantasyDraftTools.com to offer the ultimate in Fantasy Draft Tools with Customizable Cheatsheets! We've combined our "Masters List" (customizable positional cheatsheets) and FantasyDraftTools.com's Fantasy Football Draft Tool (customizable draft day software) to create the 2023 Executive Draft Master.
Full Customization:
* Fantasy Football Draft Type (that's right, one tool takes care of BOTH Auction draft styles and Standard Draft Styles)
* The amount of teams (8 through 20)
* Ability to add Custom Team Names
* Roster Spots (up to 30)
* Minimum Auction Price ($1 to $100 or enter your own)
* Total Team Salary Cap ($25 to $1000), if All Teams have the Same Cap
This is a Premium FF Mastermind Article.
You must be logged in to view it.
Back to top of page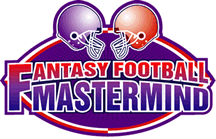 The Definitive Fantasy Information Service