2023 Masters List Customizeable Cheatsheets (PPR & Non-PPR) (Preview)
9/5/2023 - Version 1.26 & 1.27 - 12 Changes - Kelce Injured
With NFL training camps for all 32 teams finished, it's time to release our 13th version of the FFMastermind.com 2023 NFL fantasy football player rankings and projections for both non-PPR and PPR league scoring systems. IDP rankings debut in this June release. The player rankings and projections are broken down into 6-7 Tiers per position, and cover a total of 275+ offensive players plus the 32 NFL team defenses and 180 IDP players. Rookies are included in these rankings, of course. This feature is released in the form of our annual Masters List customizable cheatsheet Excel App, which enables subscribers to customize the scoring system for their own personal league. Simply click the link below, download the App and open it using MS Excel. The Mastermind Championship Projections (MCP) Board for online HTML viewing and printing will debut later this summer, along with our annual PDF Cheatsheets for...
This is a Premium FF Mastermind Article.
You must be logged in to view it.
Back to top of page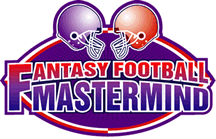 The Definitive Fantasy Information Service