2023 Rookie Draft Team-by-Team Review (Preview)
John Cooney - 5/3/2023
Round.Pick- Player, Position, College
Arizona Cardinals
R1 (6): OT Paris Johnson Jr., Ohio State
R2 (41): EDGE BJ Ojulari, LSU
R3 (72): CB Garrett Williams, Syracuse
R3 (94): WR Michael Wilson, Stanford
R4 (122): OG Jon Gaines II, UCLA
R5 (139): QB Clayton Tune, Houston
R5 (168): LB Owen Pappoe, Auburn
R6 (180): CB Kei'Trel Clark, Louisville
R6 (213): DL Dante Stills, West Virginia
REVIEW:
Arizona ended the 2023 draft making 9 picks with a heavy concentration on defense. The top pick for the Cardinals was OT Paris Johnson, ranked by most as the best OT prospect of this class. Johnson should start immediately and provide solid blindside protection for QB Kyler Murray. In the 3rd round the Cards selected Stanford wideout Michael Wilson. Wilson has impressive size (6'2-209) but the 5th-year senior has appeared in just 14 games over the last 3 seasons...
This is a Premium FF Mastermind Article.
You must be logged in to view it.
Back to top of page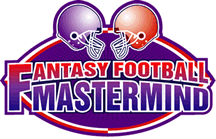 The Definitive Fantasy Information Service
Mastermind Moment
2023 Madness NFL Rookie Draft Reference Guide
Monday, April 24th, 2023
Premium Pro Bowl and Super Bowl Package Subscribers take note. The time has come. The 2023 Madness NFL Rookie Draft Reference Guide has been released for your viewing pleasure. This
Read the Full Mastermind Moment