2023 Rookie Draft: Fantasy Winners & Losers (Preview)
John Cooney - 4/30/2023
WINNERS:
Bijan Robinson, RB, Atlanta Falcons
Fanballers take heed to Coach Arthur Smith's words describing his newest rookie RB, "Bijan is more than a running back. He's an impact football player." Robinson will touch the ball as much as he's able to handle starting day-one. Last year's rookie RB for the Falcons, Tyler Allgeier, busted it for over 1000 rushing yards and a sharp 4.9 YPC. Allgeier is a talented and underrated multi-skilled back as well but is nowhere near the explosive factor Bijan Robinson is. Coach Smith has talked up Robinson as a hybrid-RB/slot receiver weapon and the offensive writing is already on the wall. Last year's slotter for the Falcons, Olamide Zaccheaus, produced 40 catches and over 500 yards receiving. Zaccheaus is playing in Philly with the Eagles this year and Atlanta has not added a receiver for that role… not...
This is a Premium FF Mastermind Article.
You must be logged in to view it.
Back to top of page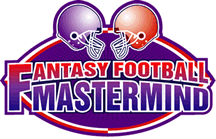 The Definitive Fantasy Information Service