2023 Mock Rookie Draft - Version II (Preview)
John Cooney - 3/14/2023
Oh, It's on! The Chicago Bears and Carolina Panthers shook up the first round of the 2023 draft with a blockbuster trade. The Bears moved down to the 9-slot while the Panthers now control the draft at 1. This is clearly a move by Carolina to cement the QB that will be the face of the new coaching regime, led by Frank Reich. Chicago moves down far enough to take them out of the Will Anderson-Jalen Carter sweepstakes, but perfectly situated to come away with the best RB in the draft. Houston no longer has the luxury of choosing between Bryce Young and CJ Stroud to be the QB to lead the DeMeco Ryans era but will now 'settle' on whoever Carolina does not select between the two. Indianapolis just lost the QB the Texans would have passed on but now may be going to a high risk-high reward QB...
This is a Premium FF Mastermind Article.
You must be logged in to view it.
Back to top of page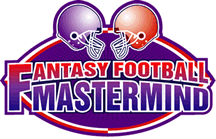 The Definitive Fantasy Information Service