Week #12: Picks to Click/Flick (Preview)
Michael Nazarek - 11/21/2022
This section expresses my gut feeling with regard to which NFL players I feel will have good days and those that will have bad ones. I remind everyone to take these picks with a grain of salt. They are certainly NOT meant to override our weekly rankings! They are based upon past performances as well as this week's match-up. Last week, click QB Joe Burrow was Joe Cool in ripping the sorry Steelers secondary for FOUR scores! And guess what? Burrow could get his bae back this week… WR Ja'Marr Chase (hip)! This week, click QB Josh Allen (elbow) should rebound with a big game against the Lions, but if he doesn't, it could mean his elbow injury is causing accuracy issues. On the flip side, two STUD RBs get the CAUTION PLAY tag this week as both flicks RB Alvin Kamara and RB Dalvin Cook will not have...
This is a Premium FF Mastermind Article.
You must be logged in to view it.
Back to top of page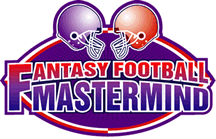 The Definitive Fantasy Information Service