Week #2: Final Fantasy Thoughts (Preview)
Michael Nazarek - 9/23/2022
FFMastermind.com Weekly Newsletter
FINAL FANTASY THOUGHTS
Weekly Newsletter: Volume XXVII, Issue 3
September 23, 2022
________________________________________________________________________
 
The Tampa Bay Buccaneers receiving corps is a big mess. Let's take a look at the injury report…
 
-- Buccaneers Friday Injury Update - Godwin OUT; Fournette, Jones, Gage, & Perriman Questionable --
 
The Tampa Bay Buccaneers official website reports Buccaneers WR Chris Godwin (hamstring) and DT Akiem Hicks (foot) are OUT. TE Cade Otton (personal) and OT Donovan Smith (elbow) are doubtful to play this week. WR Julio Jones (knee), RB Leonard Fournette (hamstring), WR Russell Gage (hamstring), and WR Breshad Perriman (knee) are questionable. Fournette, Jones, and Perriman were limited on Friday, while Gage did not practice.
 
Mike's View:
With
WR Mike Evans
OUT due to...
This is a Premium FF Mastermind Article.
You must be logged in to view it.
Back to top of page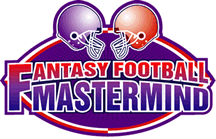 The Definitive Fantasy Information Service