Week #3: Picks to Click/Flick (Preview)
Michael Nazarek - 9/19/2022
This section expresses my gut feeling with regard to which NFL players I feel will have good days and those that will have bad ones. I remind everyone to take these picks with a grain of salt. They are certainly NOT meant to override our weekly rankings! They are based upon past performances as well as this week's match-up. Last week, it looks like the elbow issue of Los Angeles Rams QB Matthew Stafford was more overblown than a real worry. Yes, it was the Falcons defense he carved up for three scores, but more importantly, he got new WR Allen Robinson involved immediately with a score, while a second score was taken away on an official's timeout. Of course, WR Cooper Kupp remained an all-world presence for fantasy football, so it appears that Stafford is indeed back on track. On the flip side, Colts QB Matt Ryan looked...
This is a Premium FF Mastermind Article.
You must be logged in to view it.
Back to top of page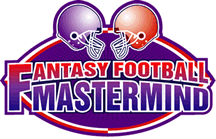 The Definitive Fantasy Information Service