Week #2: Final Fantasy Thoughts (Preview)
Michael Nazarek - 9/16/2022
FFMastermind.com Weekly Newsletter
FINAL FANTASY THOUGHTS
Weekly Newsletter: Volume XXVII, Issue 2
September 16, 2022
________________________________________________________________________
 
We are one week into the fantasy season. Check that number… ONE. That means you are either 1-0 or 0-1. While 1-0 is nice, if you are 0-1, don't SWEAT IT. It's only one week! The last thing you want to do is trade away a STUD like RB Christian McCaffrey after just one mediocre game. And if you are 1-0, that doesn't mean you should sit idly by while other owners in your league work to improve their rosters. The obvious pickups this week included RB Jeff Wilson, RB James Robinson, RB Rex Burkhead, WR Jarvis Landry, WR Robbie Anderson, WR Jahan Dotson, WR Curtis Samuel, and TE Gerald Everett, but smart fantasy players should also consider players like RB Zack...
This is a Premium FF Mastermind Article.
You must be logged in to view it.
Back to top of page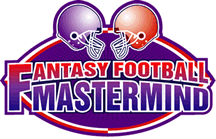 The Definitive Fantasy Information Service