Week #2: Acquiring & Trading Targets (Preview)
Michael Nazarek - 9/13/2022
In this feature, I'll do my best to offer 1-3 players (QB, RB, WR, & perhaps a TE) to target to acquire via trade as well as one player to trade away…
 
-- Look to Acquire --
 
QB Tom Brady, TB - This has to be my easiest call to make ever! Brady's value may be at a season low due to his poor debut on the road against an excellent Cowboys defense. He will rebound, so… BUY LOW!
 
QB Matthew Stafford, LAR - This is a tricky one, since we don't know if his elbow is a true issue, but if it was just the Bills excellent defense that got Matthew off his game, then BUYING LOW now is a great risk to take. That said, if you want not part of Stafford, I can't blame you.
...
This is a Premium FF Mastermind Article.
You must be logged in to view it.
Back to top of page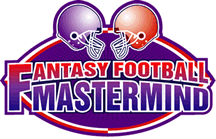 The Definitive Fantasy Information Service
Mastermind Moment
2023 Madness NFL Rookie Draft Reference Guide
Monday, April 24th, 2023
Premium Pro Bowl and Super Bowl Package Subscribers take note. The time has come. The 2023 Madness NFL Rookie Draft Reference Guide has been released for your viewing pleasure. This
Read the Full Mastermind Moment