2022 PSDG: Show Me the Money - Players in Their Contract Year (Preview)
John Cooney - 9/2/2022
"Winning isn't everything; it's the only thing."
Words of motivational wisdom from Packer coaching legend Vince Lombardi.
All players play to win, right? Well… maybe.
Professional football players strive to be a part of a championship ball club. Many work tirelessly to be the difference maker on the field, game-in-game-out, year-in-year-out. Being a professional means not only busting a gut on the actual battleground, but also in the film room, between practices breaking open that playbook, becoming expertly versed in the schemes conjured up by the masterminding coach. Being a professional is commitment in the weight room, strengthening the body for next level performance. To the true professional, doing all it takes all the time to be the best player possible with the God-given talents and skills at hand and winning games is "the...
This is a Premium FF Mastermind Article.
You must be logged in to view it.
Back to top of page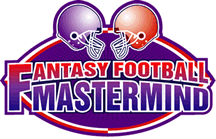 The Definitive Fantasy Information Service
Mastermind Moment
2023 Madness NFL Rookie Draft Reference Guide
Monday, April 24th, 2023
Premium Pro Bowl and Super Bowl Package Subscribers take note. The time has come. The 2023 Madness NFL Rookie Draft Reference Guide has been released for your viewing pleasure. This
Read the Full Mastermind Moment