2022 PSDG: Magic QB Handcuffs 2022 (Preview)
Chris Rito - 8/22/2022
Do you remember those trick handcuffs you would see advertised on the back cover of comic books when you were a kid? You know...they looked just like a pair of regular ordinary ol' handcuffs, but some amazing magic happened when you knew how to use them properly. They seemed like one plain and simple thing that many would ignore, but they really were so much more in the right hands. In many ways, I think this is a great analogy for drafting your backup fantasy QB, since a very good plan is often to take the ordinary guy as your #2 - a guy that is way more than he seems, but only when you know how to use him properly!
 
Many pundits have claimed that this season offers one the deepest set of starting fantasy QBs in recent history, and the general recommendation...
This is a Premium FF Mastermind Article.
You must be logged in to view it.
Back to top of page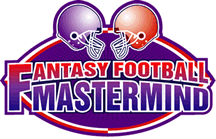 The Definitive Fantasy Information Service
Mastermind Moment
2023 Madness NFL Rookie Draft Reference Guide
Monday, April 24th, 2023
Premium Pro Bowl and Super Bowl Package Subscribers take note. The time has come. The 2023 Madness NFL Rookie Draft Reference Guide has been released for your viewing pleasure. This
Read the Full Mastermind Moment