2022 PSDG: Garage Sale Heroes (Preview)
Eddie Rex - 8/21/2022
The guys no one wants, that's who you want…
So here I am again, dumpster-diving through the dregs and half-warm leftovers of the NFL, pushing aside this guy's bloated ego and that guy's second ACL surgery – and it's all for you.
Look, most people know the big guys they want, they fall in love with Cam Akers' potential or Saquon Barkley's huge opportunity to shine, and you should just go ahead, pick the guys you really like. But when Saquon goes down with a bruised pinkie finger again, or it turns out Akers is great between the 20s but doesn't catch passes or score touchdowns – that's when you need to have your Plan B in place. You need quality replacements at a good price, and really, you can't get a better price than pretty much free.
This is a Premium FF Mastermind Article.
You must be logged in to view it.
Back to top of page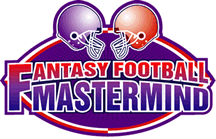 The Definitive Fantasy Information Service
Mastermind Moment
2023 Madness NFL Rookie Draft Reference Guide
Monday, April 24th, 2023
Premium Pro Bowl and Super Bowl Package Subscribers take note. The time has come. The 2023 Madness NFL Rookie Draft Reference Guide has been released for your viewing pleasure. This
Read the Full Mastermind Moment