2022 PSDG: Perfect Draft - 12-Team PPR (Preview)
John Cooney - 8/11/2022
As each football season approaches, every fantasy football participant sets out to mastermind the perfect draft plan, laying the foundation of yet another championship winning endeavor. Many make the effort to mock draft as preparation, buying the magazines and boning up on players performances in the past. Some fanballers even invest some time to browse the www and look over game video. The ultimate goal of the fantasy football playing masses is to formulate the perfect draft plan, chocked full of blue chip weapons plucked at the right time, that league-shattering sleeper pick snatched in just the right round, exacting the perfect value.
We all strive to develop the perfect draft plan. Most always within a few rounds the plan goes into the nearest shredder and you pull out plan B... or C; or you just start the "fly by the seat of...
This is a Premium FF Mastermind Article.
You must be logged in to view it.
Back to top of page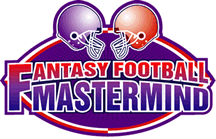 The Definitive Fantasy Information Service
Mastermind Moment
2023 Madness NFL Rookie Draft Reference Guide
Monday, April 24th, 2023
Premium Pro Bowl and Super Bowl Package Subscribers take note. The time has come. The 2023 Madness NFL Rookie Draft Reference Guide has been released for your viewing pleasure. This
Read the Full Mastermind Moment