2022 PSDG: Handcuffing - Links to Success (Preview)
John Cooney - 7/29/2022
Identifying the top performer at running back or wide receiver, or even tight end, is hard enough in a positional committee; setting the order of the reserves is an even cloudier task. The "back-up" running back, or the traditional "hand-cuff" back has become harder to identify since halfbacks now split carries, specializing in down-distance situations and rotating on and off the field for pass-protect duties. The term "starter" in a Sunday lineup carries little weight as to the amount of snaps a back will seein anygiven contest. The same can be said regarding the wide receiver position. Thanks to the importation and adaptation of college schemes like "spread", "pistol", 3, 4 and even 5 wide receiver sets, many teams now field a WR1A and WR1B within a multiple receiver rotation.Outside threats are not always the fantasy bread-winners. The slot receiver could very well...
This is a Premium FF Mastermind Article.
You must be logged in to view it.
Back to top of page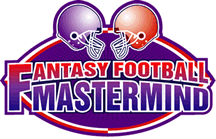 The Definitive Fantasy Information Service
Mastermind Moment
2023 Madness NFL Rookie Draft Reference Guide
Monday, April 24th, 2023
Premium Pro Bowl and Super Bowl Package Subscribers take note. The time has come. The 2023 Madness NFL Rookie Draft Reference Guide has been released for your viewing pleasure. This
Read the Full Mastermind Moment