2022 PSDG: Fantasy Impact - Pass-Catching RBs (Preview)
John Cooney - 7/29/2022
Pass-catching running backs; seems every team has at least one these days. For a numbers of seasons on-the-ball fantasy coaches were able to gain an edge over opponents by recognizing, rostering and deploying running backs (RBs) that not only produced consistent positive ground gains but also ventured into pass patterns, chucked in a few extra yards from scrimmage catching passes and scoring the occasion aerial 6-pointer. The multi-skilled RB not only created mismatches on the real pitch of NFL stadiums, but also in the virtual arenas of fantasy football. What was once a rare and most treasured lineup gem is now practically a necessity. Pass-catching RBs are abundantly available in 2022 but there are still variations of those receiving backs that often make a difference in fantasy scoreboards weekly.
Running backs that possess the ability and the opportunity to get into pass patterns...
This is a Premium FF Mastermind Article.
You must be logged in to view it.
Back to top of page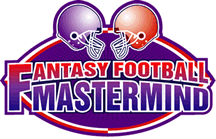 The Definitive Fantasy Information Service
Mastermind Moment
2023 Madness NFL Rookie Draft Reference Guide
Monday, April 24th, 2023
Premium Pro Bowl and Super Bowl Package Subscribers take note. The time has come. The 2023 Madness NFL Rookie Draft Reference Guide has been released for your viewing pleasure. This
Read the Full Mastermind Moment