2022 PSDG: The Official 2022 FFMastermind.com Draft Plan (Preview)
Michael Nazarek - 8/23/2022
In the past, subscribers have asked me to get into exact detail regarding how I draft and the specifics regarding how I analyze the draft, my team needs, and how the actions of owners around me cause me to alter (or move forward) with my Master draft plan. Thus, the official FFMastermind.com Draft Plan was born. This plan is developed to inform subscribers of how I actually "think on the fly" during a draft. As I've done the past 10 years, I'll go in rounds of two's and make distinctions for non-PPR and PPR leagues as well as the occasional QB heavy league. I can tell you I no longer play in basic scoring leagues and only play in 12-16 team leagues. Most of my leagues are PPR, but not all of them. Most leagues have ten starters, so I'll take you through the first 10...
This is a Premium FF Mastermind Article.
You must be logged in to view it.
Back to top of page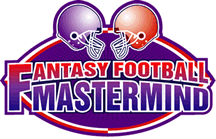 The Definitive Fantasy Information Service
Mastermind Moment
2023 Madness NFL Rookie Draft Reference Guide
Monday, April 24th, 2023
Premium Pro Bowl and Super Bowl Package Subscribers take note. The time has come. The 2023 Madness NFL Rookie Draft Reference Guide has been released for your viewing pleasure. This
Read the Full Mastermind Moment