2022 PSDG: Hangin in the Red Zone (Preview)
John Holler - 7/8/2022
In the era of analytics, one stat that doesn't get nearly the credit it deserves is who shows up in the Red Zone. It's an unsung, but important stat because, with all the changes that have been made over the years to how fantasy leagues operate to increase scoring with yardage and PPR bonuses, the bread of butter of fantasy football remains scoring touchdowns – many of which come when the field is reduced to the Red Zone.
For the purposes of our analysis, the Red Zone as it applies to passing and receiving is from the 20-yard line in. Any time a quarterback drops to pass inside the 20-yard line, you can realistically expect that a pass could result in a touchdown. When it comes to rushing, however, the typical Red Zone doesn't apply. A handoff from the 15-yard line can't realistically be expected...
This is a Premium FF Mastermind Article.
You must be logged in to view it.
Back to top of page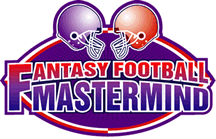 The Definitive Fantasy Information Service
Mastermind Moment
2023 Madness NFL Rookie Draft Reference Guide
Monday, April 24th, 2023
Premium Pro Bowl and Super Bowl Package Subscribers take note. The time has come. The 2023 Madness NFL Rookie Draft Reference Guide has been released for your viewing pleasure. This
Read the Full Mastermind Moment