2022 PSDG: Strength of Schedule 2022 - The QBs (Preview)
John Cooney - 7/8/2022
No position in fantasy football carries more weight than the QB. Fantasy league commissioners, managers and rules makers devise and develop inventive ways to elevate the values of the other skill players in a fantasy lineup and/or suppress the importance of the passer. In the end, unless a fantasy league resorts to drastic measures, the QBs will always be among the top fantasy football scorers. It is just a natural occurrence as no other skill players handle the football more or have the opportunity to create points in a consistently dynamic fashion than the quarterback. The NFL passing game is now just too explosive, creative and voluminous as a result of rule changes that favor aerial attacks and aggressively creative offensive schemers who devise playbooks taking full advantage of those rules.
In my own research and development of the QB-SOS, defenses a quarterback will face in the...
This is a Premium FF Mastermind Article.
You must be logged in to view it.
Back to top of page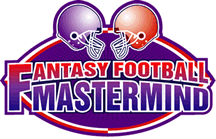 The Definitive Fantasy Information Service
Mastermind Moment
2023 Madness NFL Rookie Draft Reference Guide
Monday, April 24th, 2023
Premium Pro Bowl and Super Bowl Package Subscribers take note. The time has come. The 2023 Madness NFL Rookie Draft Reference Guide has been released for your viewing pleasure. This
Read the Full Mastermind Moment