2022 PSDG: Strength of Schedule 2022 - The WRs (Preview)
John Cooney - 7/8/2022
Winning in fantasy football and maximizing the weekly matchups go hand-in-hand. Fanballing coaches and GMs that are consistently successful, year-in-year-out, play the matchups... the RIGHT matchups! A key vehicle for identifying advantageous matchups, or avoiding the unattractive one, is Strength Of Schedule, or SOS. A fantasy football Strength of Schedule for offensive players must account for an opposing defense's ability to defend air space in the passing game as well as effectiveness versus the run. Ranking a defense by sorting the overall passing or rushing yards allowed over a season is a traditional start, but those cumbersome and far-too-inclusive stats are far from finished products or acute accuracy. How does an astute, out-of-the-box fantasy owner figure in other defensive factors that truly weigh heavily on the potential of how a quarterback, wide receiver, tight end or running back will perform on a given game day? Which factors make key...
This is a Premium FF Mastermind Article.
You must be logged in to view it.
Back to top of page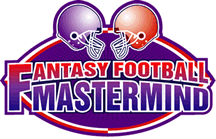 The Definitive Fantasy Information Service
Mastermind Moment
2023 Madness NFL Rookie Draft Reference Guide
Monday, April 24th, 2023
Premium Pro Bowl and Super Bowl Package Subscribers take note. The time has come. The 2023 Madness NFL Rookie Draft Reference Guide has been released for your viewing pleasure. This
Read the Full Mastermind Moment