2022 PSDG: Fantasy League Impact of the Expanded NFL Schedule (Preview)
Chris Rito - 7/8/2022
When the NFL announced that it would be adding a 17th game and an 18th week to the regular season schedule in 2021, football fans everywhere shrieked with delight as we now had an unexpected bonus: a free 6% longer season to enjoy! But fantasy football players everywhere – particularly the commissioners – probably shrieked in agony as a result of the potential scheduling nightmare that now ensues. Most might think that an extra game/week of fantasy football only means that we can have another week of fun. But the reality is that there may be significant changes that need to take place in draft strategy and roster assembly -- and primarily in the league calendar that your league has likely been using since the last true schedule change in 1990 when bye weeks were instituted to the 16-game schedule.
Obviously, there were one-off changes to the...
This is a Premium FF Mastermind Article.
You must be logged in to view it.
Back to top of page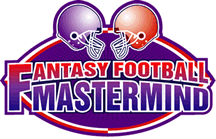 The Definitive Fantasy Information Service
Mastermind Moment
2023 Madness NFL Rookie Draft Reference Guide
Monday, April 24th, 2023
Premium Pro Bowl and Super Bowl Package Subscribers take note. The time has come. The 2023 Madness NFL Rookie Draft Reference Guide has been released for your viewing pleasure. This
Read the Full Mastermind Moment