2022 PSDG: Tailoring Your Draft Strategy for 2022 (Preview)
Chris Rito - 7/8/2022
Taking Advantage of Your League Rules
To any of you reading this article, it comes as no surprise that you should adjust your rankings and cheat sheets based on the type of scoring system in which you play. For example, every site worth a hoot will publish separate cheat sheets for both PPR and non-PPR leagues, so there clearly is a difference in how players are ranked within their positional list. That's the easy thing to do, and a necessary first step when one is preparing to play in any league. But that is not all there is to it. An oft-overlooked facet of drafting in any league is the way it should impact your overall draft strategy. Too many fantasy owners modify their cheat sheets with great care, precision and thought… and then follow the same old plan they would use for any other...
This is a Premium FF Mastermind Article.
You must be logged in to view it.
Back to top of page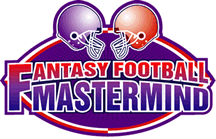 The Definitive Fantasy Information Service
Mastermind Moment
2023 Madness NFL Rookie Draft Reference Guide
Monday, April 24th, 2023
Premium Pro Bowl and Super Bowl Package Subscribers take note. The time has come. The 2023 Madness NFL Rookie Draft Reference Guide has been released for your viewing pleasure. This
Read the Full Mastermind Moment