2022 PSDG: Drafting Strategies for IDP Leagues (Preview)
Steve Yerger - 7/8/2022
Welcome to the world of Individual Defensive Players. Before reading on, please note that this article is intended as an overall introduction to IDP, and may be too elementary for your needs. However, I will explain my personal IDP philosophies, which may help you in deciphering why my rankings look like they do. It's important to understand the thinking behind a set of rankings before just blindly following them. So, let's get started and cover a few of the very important aspects that will affect your IDP experience.

League Size

I just wanted to briefly touch on this subject because it would greatly impact the value of IDPers. I play in a 32-team league that starts 3 LBs per team, so the value of having Roquan Smith increases dramatically compared to an 8-team league, where every team will have good enough...
This is a Premium FF Mastermind Article.
You must be logged in to view it.
Back to top of page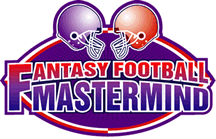 The Definitive Fantasy Information Service
Mastermind Moment
2023 Madness NFL Rookie Draft Reference Guide
Monday, April 24th, 2023
Premium Pro Bowl and Super Bowl Package Subscribers take note. The time has come. The 2023 Madness NFL Rookie Draft Reference Guide has been released for your viewing pleasure. This
Read the Full Mastermind Moment