Dolphins Acquire Tyreek Hill (Preview)
Michael Nazarek - 3/24/2022
-- Dolphins Acquire Tyreek Hill --
Thu Mar 24, 2022 --from FFMastermind.com
 
ESPN's Adam Schefter reports the Kansas City Chiefs are trading six-time Pro-Bowl WR Tyreek Hill to the Miami Dolphins for five draft picks: a 2022 1st-round pick (No. 29), a 2nd-round pick (No. 50) and a 4th-round pick, as well as 4th- and 6th-round picks in the 2023 draft, sources said.
 
Mike's View:
It seems mega-star trades have become the norm now. This trade was purely a business decision for the Chiefs when it became clear that
WR Tyreek Hill
asked for what they deemed too much money in a new deal. Obviously, Hill makes the Dolphins offense much better, but the results still depend upon the play of
QB Tua Tagovailoa.
There is now the potential of a top 10 fantasy quarterback finish for Tua in...
This is a Premium FF Mastermind Article.
You must be logged in to view it.
Back to top of page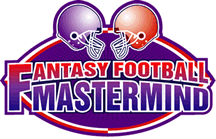 The Definitive Fantasy Information Service
Mastermind Moment
2023 Madness NFL Rookie Draft Reference Guide
Monday, April 24th, 2023
Premium Pro Bowl and Super Bowl Package Subscribers take note. The time has come. The 2023 Madness NFL Rookie Draft Reference Guide has been released for your viewing pleasure. This
Read the Full Mastermind Moment