Titans Acquire WR Julio Jones (Preview)
Michael Nazarek - 6/6/2021
-- Titans Acquire Julio Jones --
Sun Jun 6, 2021 --from FFMastermind.com
NFL.com reports the Atlanta Falcons have traded All-Pro WR Julio Jones to the Tennessee Titans. The Falcons get a 2022 2nd-rounder and a 2023 4th-rounder. The Titans get WR Julio Jones and a 6th-rounder in 2023. The Titans take on Jones' salary of $15.3 million in 2021 and the rest of the deal. The Falcons have $7.75 million in dead money this year, but now have enough cap room to sign their rookies.
Mike's View:
I am currently working to complete our first set of rankings with projections for the 2021 Master's List to be released later this week. I'm glad this trade happened now, so I can factor it into my initial work. First impressions: This deal is likely a small downgrade
This is a Premium FF Mastermind Article.
You must be logged in to view it.
Back to top of page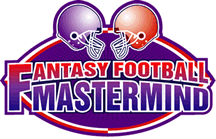 The Definitive Fantasy Information Service