2021 Rookie Draft: Fantasy Winners & Losers (Preview)
John Cooney - 5/3/2021
The 2021 NFL Rookie Draft is in the books, so it's time to take a look at the WINNERS and LOSERS from this draft in fantasy terms...
WINNERS:
Zach Wilson, New York Jets
In general, the New York Jets fans were pretty much counted among the off-seaon winners going into this draft with the move from the stale and failed practices of Adam Gase. BYU's athletic star QB Zach Wilsonis among the biggest winners in Big Apple football coming out of the draft. Wilson is the 2nd overall pick of the 2021 draft and will start Day-One. Jets' GM Joe Douglas took Wilson then set out to provide both protection and weaponry for their pricey player investment by selecting one of the top and versatile offensive linemen just 12 spots later, Alijah Vera-Tucker of USC. Mr. Douglas stayed on the offensive...
This is a Premium FF Mastermind Article.
You must be logged in to view it.
Back to top of page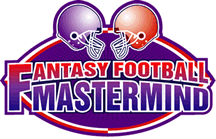 The Definitive Fantasy Information Service