2021 Mock Rookie Draft - Version III (Preview)
John Holler - 4/8/2021
The draft is three weeks away and the biggest question at the moment is not who will follow Trevor Lawrence as the No. 1 pick, it's how many will be quarterbacks? The Jets trading Sam Darnold has locked them into a quarterback. The 49ers didn't trade into the No. 3 spot as far removed from the draft as they did to take a linebacker. Atlanta could take a QB at No. 4 or trade out of that spot for a team offering a magic bean pile of future draft picks.
The wild card in the first round is Alabama QB Mac Jones. There are a loud chorus of people who believe the 49ers moved up to take Jones. There's an equal drumbeat that, in an ideal scenario, Jones is the next Matt Ryan – a pocket glacier who does his damage exclusively with his arm. I believe...
This is a Premium FF Mastermind Article.
You must be logged in to view it.
Back to top of page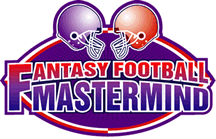 The Definitive Fantasy Information Service