2021 Mock Rookie Draft - Version I (Preview)
John Holler - 2/19/2021
Mock drafts in February are more conjecture than anything else because you know the players who are likely to make up the majority of the first round, but stock can rise and fall significantly in the weeks leading up to the draft and teams can fill needs in free agency or re-signing their own players.
One thing I've typically been consistent with is sticking with my No. 1 overall pick throughout the process. Three years ago, I had Cleveland taking Josh Allen with the No. 1 pick even though it was becoming obvious that they were going to take Baker Mayfield. When you do a mock draft, you're trying to pick the players that are the best fit, not necessarily who their War Room loves (see Mitchell Trubisky).
In our first mock draft, I'm not predicting trades or the frenzy of taking quarterbacks high in...
This is a Premium FF Mastermind Article.
You must be logged in to view it.
Back to top of page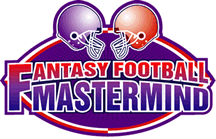 The Definitive Fantasy Information Service