Preliminary Top 12 Fantasy Player Rankings for 2021 (PPR & Non-PPR) (Preview)
Michael Nazarek - 2/15/2021
Fantasy Index Ask the Experts - What is your top 12 fantasy player rankings for 2021? With free agency approaching, things could change a lot by the time I release my first comprehensive rankings later this spring. Below, I'm offering you my top 12 in both PPR and Non-PPR leagues for 2021 as of mid-February. Enjoy!
Top 12 for PPR (Points-Per-Reception) Leagues:
1) RB Christian McCaffrey, CAR - I know he only played 3 games in 2020, but keep in mind that he totaled nearly 2,400 yards and scored 19 times in 2019! He also caught an amazing 116 passes! When healthy, he is still clearly the top RB in the NFL!
2) RB Dalvin Cook, MIN - He proved he can get the job done in 2020, and he only missed one game. He totaled a...
This is a Premium FF Mastermind Article.
You must be logged in to view it.
Back to top of page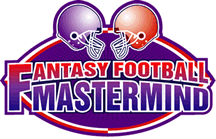 The Definitive Fantasy Information Service