Week #12: The Market (Preview)
Michael Nazarek - 11/24/2020
We're into the home stretch of most fantasy league regular seasons. It's now or never to make your move to fortify your roster or grab that key free agent to get you that playoff berth. Let's get right to it...
THE QUARTERBACKS
-- Matthew Stafford Struggles Again --
Detroit Lions QB Matthew Stafford completed just 18 of 33 passes for only 178 yards with five rushing yards in the team's 20-0 loss to the Panthers on Sunday. Just one week after a big game, Stadfford flopped. That said, he had some reasons, along with bad luck on one big play. Stafford toughed it out with a thumb injury and played without rookie RB D'Andre Swift (concussion), star WR Kenny Golladay (hip) and veteran WR Danny Amendola (hip). As a result, Stafford was unable to...
This is a Premium FF Mastermind Article.
You must be logged in to view it.
Back to top of page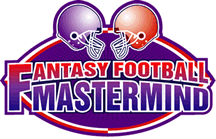 The Definitive Fantasy Information Service