Week #11: Final Fantasy Thoughts (Preview)
Michael Nazarek - 11/20/2020
FFMastermind.com Weekly Newsletter
FINAL FANTASY THOUGHTS
Weekly Newsletter: Volume XXV, Issue 11
November 20, 2020
________________________________________________________________________
There is good news for once on Friday for two STUD WRs for fantasy owners! Before practice on Friday, Green Bay Packers HC Matt LaFleur commented on WR Davante Adams (ankle). "He should be good to go." After practice, the team removed Adams from the injury report, even though he was limited on Friday. He will play on Sunday. Meanwhile, Atlanta Falcons WR Calvin Ridley (foot) was also limited in practice on Friday, but will also play on Sunday. He was also removed from his team's injury report. Things are certainly looking up for two elite wide receivers in the NFL!
-- Taysom Hill Will Start This Week --
New Orleans Saints QB...
This is a Premium FF Mastermind Article.
You must be logged in to view it.
Back to top of page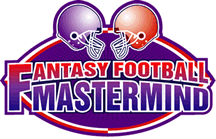 The Definitive Fantasy Information Service
Mastermind Moment
UPDATED: NFL Game Matchup Analysis & Mastermind Moments!
Sunday, September 13th, 2020
OK, the big day has come and gone; your draft is over. You assembled an impressive roster thanks to a lot of time, energy and research dedicated to that task.
Read the Full Mastermind Moment