Week #11: Early-Week Picks to Click/Flick (Preview)
Michael Nazarek - 11/16/2020
This section expresses my gut feeling with regard to which NFL players I feel will have good days and those that will have bad ones. I remind everyone to take these picks with a grain of salt. They are certainly NOT meant to override our weekly rankings! They are based upon past performances as well as this week's match-up. Last week, click QB Aaron Rodgers kept rolling along with another big game against the Jaguars. Meanwhile, flick RB Derrick Henry got his 100+ rushing yards, but nothing else against the Colts, making him only a decent RB2 for the week, as he was ranked. This week, look for the Chargers passing game and click QB Justin Herbert to roll up big numbers against a soft Jets secondary. On the flip side, this week's CAUTION PLAY is flick RB James Robinson. I know you will start him, but lower your...
This is a Premium FF Mastermind Article.
You must be logged in to view it.
Back to top of page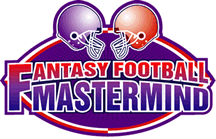 The Definitive Fantasy Information Service