Week #6: Final Fantasy Thoughts (Preview)
Michael Nazarek - 10/16/2020
FFMastermind.com Weekly Newsletter
FINAL FANTASY THOUGHTS
Weekly Newsletter: Volume XXV, Issue 6
October 16, 2020
________________________________________________________________________
Cleveland Browns QB Baker Mayfield (chest), WR Odell Beckham Jr. (illness), and WR Jarvis Landry (hip/ribs) are questionable to play this week. Mayfield fully practiced on Friday, while Landry was limited, and OBJ did not practice. HC Kevin Stefanski indicated that all three still have a good chance of playing, and that while the team is currently keeping Beckham away, he is feeling better today and could rejoin the Browns when they travel to Pittsburgh tomorrow. Fortunately, the Browns play in an early Sunday game, so we will know if all three will be playing when inactive lists are released. Frankly, we believe it's likely that all three will play, but fantasy owners must be prepared to sit them if...
This is a Premium FF Mastermind Article.
You must be logged in to view it.
Back to top of page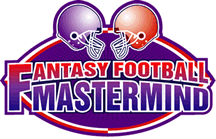 The Definitive Fantasy Information Service
Mastermind Moment
UPDATED: NFL Game Matchup Analysis & Mastermind Moments!
Sunday, September 13th, 2020
OK, the big day has come and gone; your draft is over. You assembled an impressive roster thanks to a lot of time, energy and research dedicated to that task.
Read the Full Mastermind Moment